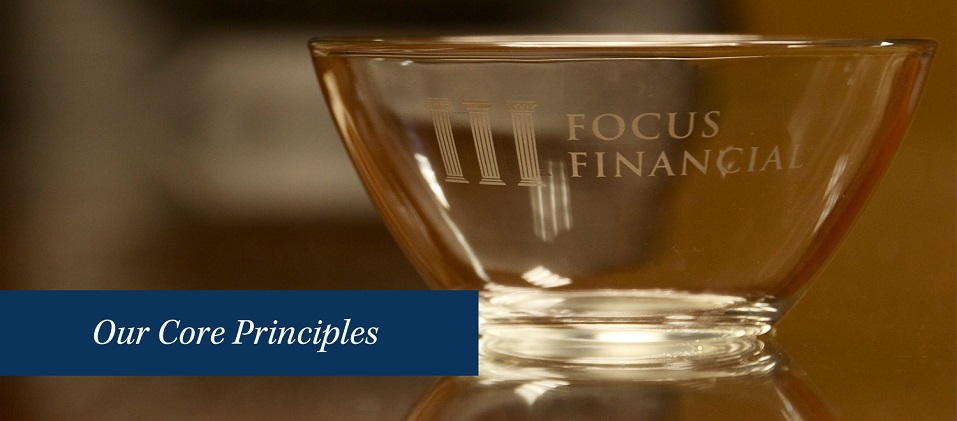 Our mission it to be an essential advisor for clients by helping them define "what's important" and create a tailored plan to achieve their goals. Our commitment to this mission is defined by three core principles:
Focus on Planning

Thorough discovery helps us uncover and understand "what's important" to our clients, helping tailor our approach.

Our comprehensive planning approach can provide a clear picture for clients of where they stand along with a realistic plan of action.

We inform our clients using straightforward language that helps them understand their options and can make complex issues seem simpler.

Benefit: Clients can experience the confidence that comes from knowing where they stand and what to do.

Personalized Strategies

Experience, a team approach, and a commitment to our clients' goals helps us provide a meaningful perspective.

Attention to detail along proven methods helps us build portfolios that are logical, prudent, and tied to our clients' stated goals.

The ability to collaborate with other professionals, leverage resources, and facilitate planning solutions.


Benefits: Clients can feel more comfortable knowing that their advisor focuses on helping them reach their goals

Personal Relationships

We demonstrate commitment to high levels of accessibility, responsiveness, and approachability.

Regular communication helps clients track their progress towards their goals while making timely, informed decisions.

We put ourselves in our client's shoes and act in their best interest so we can help create comfort and earn trust.


Benefit: Clients can feel a higher level of assurance knowing their best interest is the foundation of their financial plan.